Since Goldfish Slot machine games made that debut, online gambling has been on its toes. The quirky games based on colorful goldfish pets create a new way for players to have fun and still win big with their variations, exciting UI, and stellar gameplay. It is no wonder why Goldfish Slot games are the talk of the town.
Popular Gold Machine Slot games like Gold Fish slot game, Goldfish 2, Goldfish Deluxe, and Goldfish: Race for the Gold have granted players an opportunity to experience an authentic underwater world, witness groundbreaking graphics, and, last but not least, see Goldfish. 
And if you think that's where it stops, it doesn't; it goes further. The game is littered with a wide range of playing features. You can expect free spins, wilds, scatters, and bonus rounds. 
Features designed to heighten your experience and increase your chances of winning big.
To play any Goldfish machine slot game isn't rocket science. On the contrary, it is pretty straightforward. 
All you need to do is ensure that your slot machine symbols match, and you're in for a world of wins. It is the perfect game for high rollers who want to sit at home and enjoy the casino. It also works for beginners due to its accessibility.
While Goldfish Slot Machine games may enjoy popularity, there's still a problem that many connoisseurs face. The question, "which Goldfish machine slot game do we play?" leaves users confused. It also stresses the player's mind and takes the focus from the most important thing. Winning.
Not to worry. This article will point you in the right direction. Here are 5 Goldfish Slot Machines games that deliver great results.
Goldfish Slot Machine Games: Top 5
Goldfish Race for the Gold
Goldfish Race for the gold has to be the most exciting game I played. It is a cross-breed of a racing game(virtual horse racing) with the general aesthetic of the goldfish series. Recently, it has become more popular for users who want more than just online casino slot gaming. 
The game features bright-colored graphics, exciting sound effects, and a UI that's easily accessible. This generates one of the most spellbound and immersive games I have encountered. Players can select from various Goldfish with different strengths and cheer that Goldfish to victory. 
In addition to the race, the game offers other features that keep users spellbound. For example, it has a bonus round triggered by matching two or more symbols. This round takes the users to a particular screen where they can win more prizes. 
Free spins are also part of the game, involving users matching symbols and enjoying spins for free. Goldfish Race for the Gold is a Slot machine game that delivers extraordinary and exciting results.
Goldfish Deluxe
Goldfish Deluxe is another popular entry here, and it ranks among Goldfish Slot machine lovers. It shares the same theme with most Gold fish slot games but has one of the most aggressive(likable) I have ever seen. 

To talk about Goldfish Deluxe, one must talk about the mammoth that is Progressive Jackpot. This feature enables users to grow with every spin and is usually activated by matching certain symbols. Progressive Jackpot allows users to win big and can be won anytime.
Another feature of Goldfish Deluxe is its bonus round, which is activated by matching 3 or more scatter on the same reel. In this bonus round, players can win additional prizes and enjoy riveting gameplay that adds an extra layer of excitement to the game. 
Online slots Free spins can also be triggered by matching certain symbols, allowing players to spin the reels for free and increase their chances of winning big.
Goldfish Deluxe is a Slot game for everyone. Whether you're experienced or a newbie, you'll find it easy to navigate and, hopefully, easy to win. The instructions are clear, and the betting system is straightforward.
Goldfish 2
Goldfish 2 is one of the rare cases where the sequel surpasses its prequel, with its new features built on the foundation of the original game. As a result, Goldfish 2 creates the most wholesome experiences in online gaming. 
In Goldfish 2, the graphics improve, more sea creatures are added, and the iconic Goldfish returns triumphantly. It even promises a much more comprehensive range of betting options that the initial Goldfish desperately needed. 
Players can choose to wager large or small amounts and still have a decent chance of winning. The game offers a high payout rate, so expect great results. Goldfish 2 remains one of the best Goldfish Slot Machine games and a must-try for all high rollers.
Goldfish
While Goldfish 2 might improve this game, one will be pressed to find a Goldfish Slot Machine game as good as this. It might be old, but it still stands out among many other Goldfish Slot Machine games. Its colored fish and other underwater symbols on the reels were unique to this game before mermaid millions, tidal riches, and ocean magic.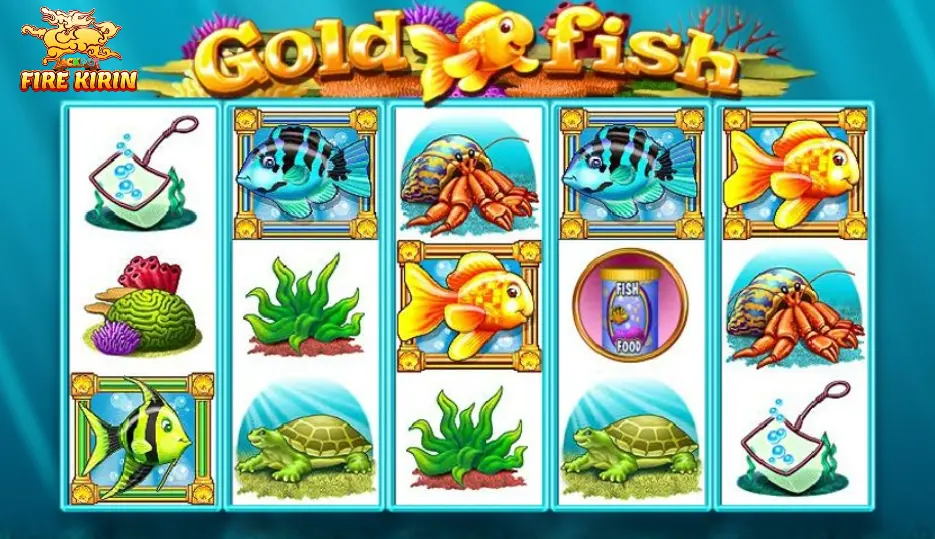 The objective of Goldfish is to spin the reels and create winning combos. The game has five reels and up to twenty-five playlines, which provides players with ample opportunity to win.
It also has unique features such as Fishfood Bonus, Wilds, and Scatters. The Fishfood bonus remains one of the most sought-after features, and it offers users a chance to win instant cash prizes and other rewards. 
To trigger the Fishfood bonus, you need the Fishfood symbol to appear on the reels. Once it appears, you're good to go, and your chances of winning increase.
With the game's compatibility and cross-device support, Goldfish remains the premier game for all high rollers and betting enthusiasts.
Goldfish Paradise Cove
Goldfish Paradise Cove might be the last entry on this list, but it is not the least. The same creators of Goldfish made it, but the only difference is the tropical setting. Like the other Goldfish games online free, Goldfish Paradise Cove is played by matching underwater symbols on the reels to a winning combination.
While this game feels like a rehash of other Goldfish Slot Machine games, it still delivers excellent results. It also has some features not held by the other games on this list. 
Once a play is able to match at least three or more scatters on the same reel, they will eventually activate the free spins feature. This feature allows players to win up to 20 free spins, during which all the winnings are multiplied by two. Free spins can also be re-activated, allowing users to win much more.
Another sought feature has to be the Pick a Fish bonus feature, triggered when the bonus symbol appears on the first and fifth reels. Players can select a fish to reveal a cash prize. Progressive Jackpot is also a feature here, like in Goldfish Deluxe.
Goldfish Slot Machine Games: Final Thoughts 
While Goldfish Slots are popular and draw a large stream of users, much thought must be put into ensuring you get the best experience. Also, players must study each rule, feature, and caveat to excel at this game truly.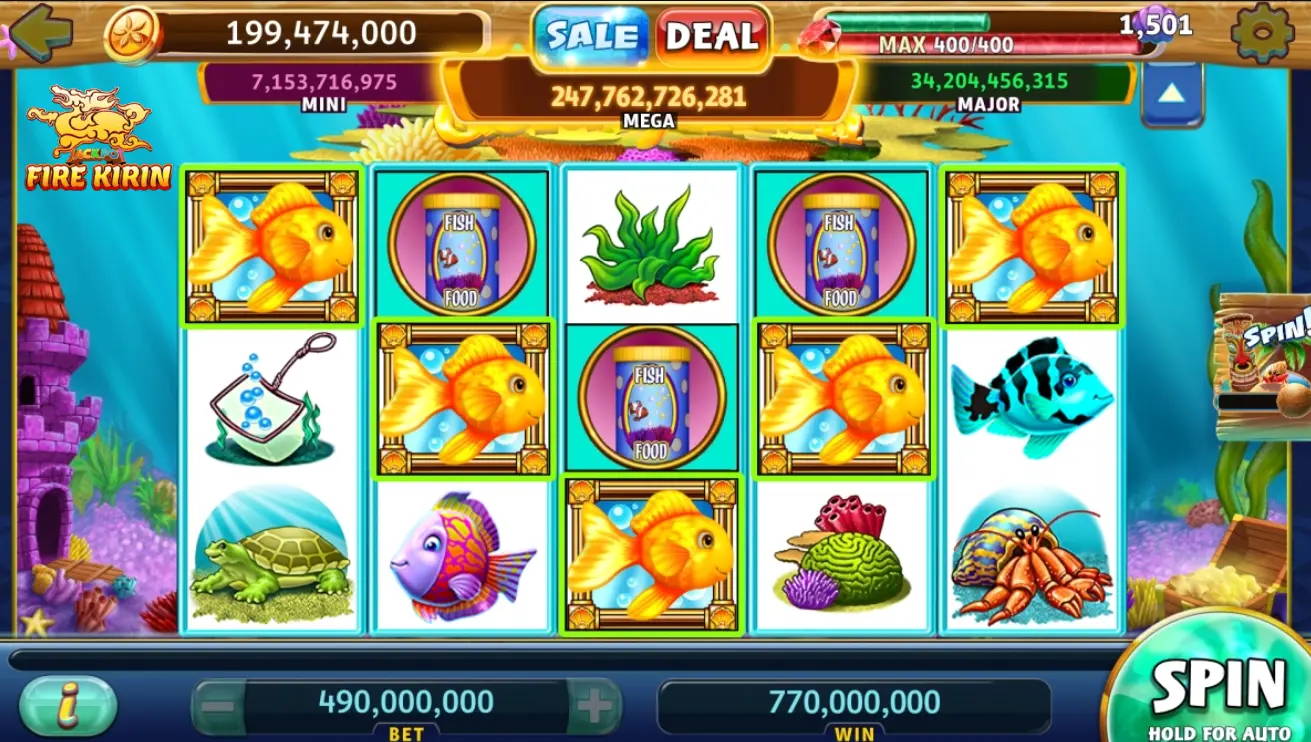 Goldfish Slot Machine games are open to players of all ages(check your country's local law) and players of all mastery. Additionally, Goldfish Slots have the characteristics of high payouts and generous bonuses. So, why not give it a try?
Last but not least, Gamble responsibly. 
FAQ
Do you have questions you need to know about Goldfish Slot Machine games? Check our FAQ section and find out answers to any questions you might have. 
Is Goldfish a gambling game?
Goldfish Slot Machine is surprisingly not an online gambling game. They are a brand of slot machines usually found in casinos, which use underwater reels and symbols to mimic the experience of a traditional slot machine. In recent years, minimum deposit casino sites and apps are allowing players to enjoy this games from the comfort and they are providing crazy deals to match.
Are these games available online?
Of course, they are. Many trusted online casinos provide these games for players to enjoy from the comfort of their homes. Ensure you play it on a reputable new online casino  or app to avoid being scammed or your details being accessed by internet fraudsters.
Are there any strategies for winning these games?
Goldfish Slot Machine games have no guaranteed strategies for winning; you must play with a clear understanding of the rules. Learning about the paytable is also highly recommended, as well as managing your bankroll effectively.
Are these games suitable for all players?
These games are perfect for all kinds of players: Whether you are a beginner or an expert. The game is easy to understand. In addition, the betting range can be easily adjusted to suit the player's budget, making these games accessible to everyone. But, if these games do not meet your fancy. You can check online casinos like Bitpay casino, BitBetWin, and BitOfGold.
What other Goldfish Slot machine games exist?
They are over 100+ Goldfish Slot machine games to choose from, but the ones on this list are the ones that deliver outstanding results. If you need other games that are good but not as great as the ones I have mentioned. Here are the following: Kiss the Goldfish, Goldfish Race for the Gold, Goldfish Show Wizard, and Jumpin Jalapenos with Quick Strike
Post Tags